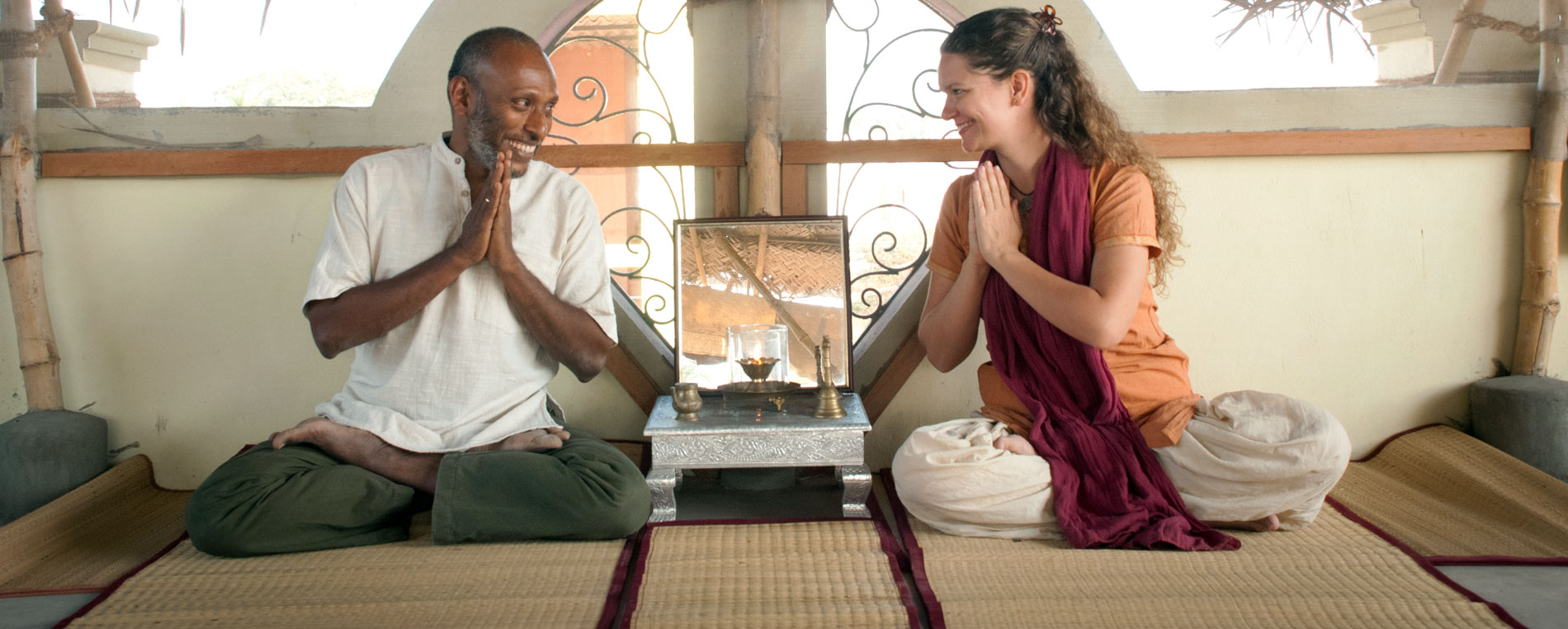 FAQ & further information about our retreats in India
Here we have gathered as much information as possible to make you ready for a once in a lifetime experience in India!
Please read it with care before you sign up. The information does not only stimulate your curiosity, it also provides important
information about what to expect.
Required for all participants to read:
Is the retreat open for all and do I need to have experience with yoga and meditation?
Our retreats are open for all. A fundamental part of our approach is the understanding that spiritual development is individual. Your personal and spiritual need and search cannot be measured on any scale or compared with other persons with different backgrounds and life experience. Basic experience with yoga and meditation is good but even complete beginners can reach very deep layers of meditation if the motivation and "call" is strong. We often have beginners and yoga teachers getting along very well on the same retreat.
Can I attend the retreat if I have special concerns or needs?
Our philosophy is that everyone can attend and we like to make room for everyone. But it is important that you are aware of your own potential limitations in the retreat program. E.g. If you have food regulations you may have to bring supplements on your own or if you have major physical difficulties, you may have to skip a hiking trip or even skip some parts of the asana classes. Contact us and we can discuss your situation and whether the retreat suits you.
Language?
We mainly speak English during the retreat so you need to have a good understanding of basic English. There will always be Danish people to help you to ask questions etc. but we don't translate full classes into Danish since it will disturb the flow.
Can I expect toilet paper on Indian toilets?
No! Instead of using toilet paper Indians use water to clean after toilet visits. You may use toilet paper but since the Indian drainage system is not built for paper you will have to dispose it in a bucket. Tissues in small covers (such as klinex) are handy to bring for daytrips. You can buy toilet paper in Tiruvannamalai and on tourist places. For the retreats conducted in hotels or resorts, toilet paper will be provided. If you stay in an ashram, a lodge or guest house you are expected to purchase your own toliet paper and when going out in restaurents and tours keep in mind to carry paper if you prefer the "paper hygiene" to the "water hygiene."
Mosquito net?
Usually our participants don't require mosquito nets since the windows have net. However, if you are very sensitive we suggest that you bring your own mosquito net. It is important to follow some basic advice to avoid mosquitoes in the room during night time and even sleep with the window open and enjoy the fresh breeze (there are no malaria alerts in South India). In Tiruvannamalai all rooms have the windows covered with mosquito nets and if you follow the "mosquito guide lines" you will not need a mosquito net during night time.
Laundry & room cleaning
The resort hotel has a laundry facility available for extra payment. You can have room cleaning on request (included in the payment). 
Food
In all our retreats we arrange Indian vegetarian food which is freshly prepared with local ingredients. We eat most meals together but it is also possible to eat a few by your self, if you like. If you have food limitations or are sensitive to spicy food you need to contact us to discuss your situation when you register. In order to make the best out of the time, we pre-select a variation of good dishes for the group meals since it is extremely time consuming if each person order different food in the rural areas of India. So, be flexible to eat "what is on the table" and we promise you that it will be good, healthy vegetarian food!
Flight tickets and airport pick-up
All participants are responsible for their own flight travel and transportation. The nearrest airport is Chennai (also called Madras), four hours by bus or taxi or Bangalore (also called Bangaluru), six hours by bus or taxi. Flight prices vary and are usually higher for December departures due to peak season charges. Prices usually increase the later you book your ticket so we advice you to book it early.
If you need assistance or advice in booking your flight ticket, you can contact our friend Kumar from the local travel agency in Tiruvannamalai, Shanti Travels on shantitravels@gmail.com or contact a local travel agency. For taxi pick up, please contact Kumar from Shanti Travels on shantitravels@gmail.com.
Smoking
Please understand that In India smoking is considered to be bad and impolite. In all ashrams it is not permitted to smoke and smoking in public should be done with care and never in front of temples or nearby houses and places we visit. We accept if you need to smoke but we ask you do it in private and in a distance to the group. We like to support you to cleanse your body and go deeper into breathing techniques (which smoking puts certain limitations to) so please inform us if you smoke.
Visa, insurance and vaccinations?
Insurance: We always recommend you to have both travel insurance and cancellation insurance(not the same insurance). Often your own insurance company will be able to offer you a good price for a yearly insurance covering 3 months of "world-travelling" – but remember to tell them that you are travelling to India. Notice that you have to buy your cancellation insurance around the same time that you purchase your flight tickets! Some banks in Denmark offer you a free travel insurance if you pay the retreat by MasterCard (ask your bank).
Visa: All participants from must apply for tourist visa and we suggest you to apply 2-3 weeks before your arrival in India. You may apply earlier but notice that the 3 or 6 months visa period starts the date of issue. If you need assistance with your VISA application you can contact Shanti Travels (shantitravels@gmail.com.) who will help you for a minor fee.
Vaccination : Always double check what your doctor suggests regarding vaccinations. We have experienced many doctors thinking that India is "one place" and that you will need vaccinations for all possible diseases. You do not! Vaccinations may give a good protection towards diseases but they are also hard on your body. Make sure you look for "South India" and also be aware that you are travelling for a short time as a tourist in a short time of 3 weeks. You will not enter remote areas or travel like a backpacker. See the recommendations of Statens Seruminstitut here.
Homeopathy offers good alternatives if you, as we do, prefer to use more natural forms for medicine without side effects. You can by the medicine at www.homeotek.dk (or call and enquire or visit them on Rathsacksvej 27, 1862 frederiksberg, ph: 33241736). We have very good experience with homeopathic remedies both in daily use and for travelling.
Visa card or cash?
The local currency in India is rupees and the easiest thing is to bring your visa card and withdraw cash upon arriving in India. If you travel with the group we will help you to an ATM on the very first day. Please note that it is only possible to exchange from foreign currencies (including dollars) in the tourist places (Kovalam Beach & Tiruvannamalai). So it may take up to two weeks for you to be able to exchange cash.
Dress code in India
India has an old unique culture which is important to respect if you want to get the most out of it. It is therefore very important to follow the Indian dress code: Women cover legs and shoulders and you should not wear deep cut t-shirts. Men should not wear shorts in the temples. When we are "on campus" you may dress more western but women must always cover their legs from the knees and up. A shawl to cover the shoulders is also fine. Synthetic and tight clothes are not advisable in the heat so try to bring loose cotton clothes. You will find traditional Indian clothes to buy in India – it is very comfortable to wear in the warm climate. However, it may take some days before you can buy clothes, so make sure that you have clothes for the first days. Clothes are very cheap in India – you can get a nice set for 25-50 kr. (pants, top and shall).
Contact information for the retreat group
Around one month prior to departure all participants will receive an address list for the group. We also invite all in a facebook forum where you can contact each other regarding meeting up in the airport, sharing photos after the retreat etc.
India and stomach problems
Many people connect a trip to India with an unavoidable upset stomach. This is not true. We rarely have participants with stomach problems since we select your dining places with care and only serve fresh, vegetarian local food. We always advise participants to take probiotics one-two weeks before the journey and during the weeks in India since you optimize your stomach to receive the new diet consisting of more rice and more spices than most westerners are used to.
Which kind of people come for our retreats?
We have people with various backgrounds, ages and life experiences getting along very well on our retreats. Most participants come on their own but friends and couples also attend retreats together. Our retreat groups normally has 12 – 18 participants in ages from 17 years to 72 years. We find that the different ages and backgrounds play a very minor role in the way that people bond. We enjoy the diversity of people and feel privileged to meet men and women with different personalities, backgrounds, life stories, ages, and nationalities in each group.
I am not from Denmark, can I join?
Yes – our groups always have different nationalities. As long as you speak English you are welcome!
Backpack or suitcase?
You are not going to carry your luggage much so it doesn't make much difference which kind of luggage you bring as long as you are able to carry your luggage for a short distance.
What shall I bring
Medicine
After the retreat
After the retreat we will stay in contact and you can contact Govind for an individual skype session, if you need more guidance.
The biggest reward for me in this retreat is that I gained confident in my own spiritual practice. Anna Marie and Govind, You love your spiritual practice – and I open my heart and gain confidence in you in yoga and in meditation.
Being thought yoga, pranayama and meditation the traditional yogic way, and the opportunity to meet and have satsang with authentic Yogis, Swamis and Vedic priest is a rare luxury. A gold mine for spiritual seekers.
The spiritual atmosphere of the mountain of Arunachala was definitely the biggest experience for me. Arunachala is a great place to be, one of the finest and most spiritual places in India. It has a special atmosphere that promotes mindfulness.