I am – and will always be – a student of life. I received individual spiritual guidance by various spiritual masters. One by one they helped me reach deeper states in meditation. And one by one they stepped aside when I started to reach my main teaching through the universal source of spiritual wisdom by very advanced states of meditation. I have no words – or no need to – explain what I so gratefully receive in meditation. But I trust that life will send me the people that need my help and along with my life partner, Anna Marie, we try our best to serve as spiritual instruments. Both as teachers but certainly also as parents – a role I appreciate very much in my life.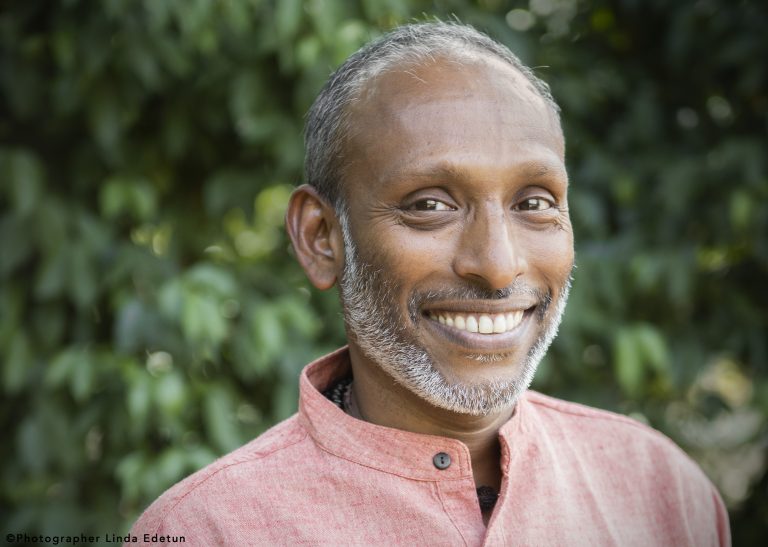 The wisdom and knowledge that I share does not come from analysis and scholarly studies. Actually, I was never good in school but I always had a trust in life and faith in God. One day in my early teenage years a near family member passed away. I was overwhelmed by reactions of family and society. I felt life was ugly and material and with this feeling I turned inward for a deeper search and started meditation.
It changed my life and gave me true peace, love and life wisdom and in the coming years I met amazing masters from different parts of India. It became clear to me that I must teach yoga and meditation; when I see people are staying in the short term happiness I feel to help them to a stable inner and everlasting happiness. This does not mean that one has to neglect the short term happiness. No! It means that you can enjoy it more freely. Without fearing that you may have to replace it with another material thing or emotional event in your life. If we all become clear about the "spiritual being in life" then there is no need to depend on material things to get happiness and peace. The need of love – and the peace that comes with it – will not be bonded in human relations alone. No fear and no action based on fear.
I feel the universe have so many wonderful aspects to offer us. But when we are tied up with desire for short term happiness and fear to lose it – we don't see it. What a loss!
is a vast subject that connects with many other aspects of vedic life knowledge, especially Ayurveda. As a natural part of my childhood I learned about the foundation of Ayurveda and further on extended my knowledge by studies by different Ayurveda masters. I consider Ayurveda as one of the main pillars in my approach to the individual student. Being a sincere yoga student and yoga teacher I have also built a knowledge base yoga related disciplins such as vedic astrology and palmistry.
All my masters followed the ancient traditional approach in sharing the knowledge on one to one basis and with a teacher – student bond made from true knowledge dedication rather than desire for diplomas and grades. I follow the same path and no seeker will ever receive a diploma or certificate from being my student. You cannot measure spiritual development but if you study with a sincere aim life will surely grant you a reward and proof much greater than that of a piece of paper.
I was born in Herning, Denmark in 1982 and my educational background is a multidisciplinary Ba. in dramaturgy (theater), Indology & Religion. I feel alive when life is intense and I have always felt at best when there is a deeper meaning behind my doings and choices. Material aims or aims based on personal development or comfort does not motivate me without deeper based values. At times during my life I felt struck. I sensed an inner awareness of deeper aspects of life but I couldn't connect with it.
My visits to India helped me.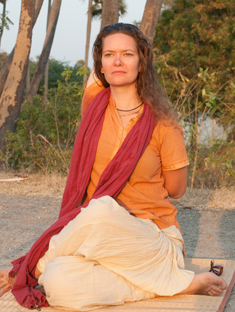 I have been working, studying theatre and travelling in India since I was 21. I learned much from living with remote tribes and from meeting enlightened persons like his holiness Dalai Lama and other more unknown masters. It inspired me and triggered an inner awareness that somehow didn't find space to unfold in my life in Denmark. Meeting people who lived value based lives ruled by simplicity impressed me. Their aims of human compassion rather than individuality and materialism made me feel at home in India.
The feeling of "being home" was completed when I met Govind in India in 2005. At the first meeting I recognized a certain deep wisdom within him and had a strong inner call to go further into meditation and to connect with that "deep wisdom" I somehow felt. By his guidance I entered deeper states of meditation and a whole new universal awareness opened up. I received guidance and knowledge by different masters and I experienced the higher union of yogam. I don't have words to describe the impact of these six intense months. Since then I felt India as my spiritual home and Denmark as my cultural home and I feel enriched by living literally with one foot in each place – both as a teacher and as a parent.
Since 2015 I started working in Odin Teatret in Denmark and since then I mostly help in the administrative part of Santhi Yoga and only teach occationally.