Do you want to develop your spiritual journey throughout 2023? Sign up here. In this course lasting from April to December 2023, Govind offers a long, coherent course where you continuously will develop your yoga practice and understanding of yogic and ayurvedic philosophy throughout the entire year together with other course participants.
The real journey into yoga doesn't only take place on the yoga mat. It is about integrating yoga, Ayurveda, astrology, and yogic psychology into your daily life. In this program, you will go through a transformation bridging ancient eastern knowledge to western life.
Yoga means union, and the course takes a holistic approach: Together we will follow the changing seasons in both the outer and inner climate(Mind & Body) and learn how to balance according to the weather outside as well as our inner climate when we face difficulties in the relationship, job (karma).
The techniques we are working with include Detox of body & mind, pranayama, ancient mudras, kriyas, asanas, chakra healing work, mantras, pooja and food advice from Ayurveda. After every session, there will be a question & answer session.
Who can participate? This course is open to everyone who has attended Govind's classes. If you haven't met Govind but are familiar with Ayurveda and spiritual yoga practice, you are also welcome to join.
The course is LIVE and INTERACTIVE: after each class, there will be more than 15 min Q&A with Govind. The course is conducted on a zoom platform. (You can get the recorded Zoom video and watch it afterwards in case you miss a session, or you want to repeat it in the following weeks.)
Practical: The course will start on April 13th & ends on December 14th. It will take place on Thursdays from 19:30 to 21:00 (Central European Time.). Dedicate yourself for 36weeks more than 65 hours of course. Sign up here.
The course costs  500 EURO /  3750 DKK / 5650 SEK.  (In case you love to join but the economy is blocking you don't worry just feel free to contact me at mail@santhiyoga.dk )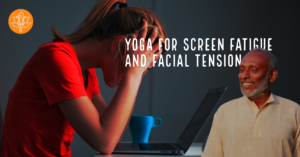 Yoga for screen fatigue and facial tension – Free 1 hour online class
This free 1 hour online class focuses mainly on practical techniques and strategies for reducing stress, facial tension and improving your overall well-being, particularly in the context of prolonged screen time. This class is important for people who sit in front of the screen for work on a daily basis. This class can give you a taste of what the 11 week online course and the advanced 9 months online course will be like and help you decide to join. When: 29th March from 19:30 – 20:30 Central European Time. Click here for more details.