"I am – and will always be – a student of life. I have taught yoga for 20+ years and received individual spiritual guidance by various spiritual masters and my aim of this course is to offer some simple ancient tools to help solve and prevent modern problems. Today many people are drowning in their busyness, forgetting to take care of their inner business. I would like to help people regain balance and control of their life flow which ultimately improves quality of life. I hope to see you either on my online course or at the weekly free live satsangs!"
– Govind Radhakrishnanan
Santhi Yoga has launched a six-week online course for all who are just a little bit too busy. With this course, Govind will teach how it doesn't have to take a huge effort to regain balance in a busy and stressful everyday life.
You don't have to be a dedicated yoga practitioner or own elaborate equipment to implement a yoga routine. Over the course of six weeks, you will learn how even a few minutes can make a positive difference in your life quality.
The online course is divided into six modules. Every week a new module will be revealed with videos, guidance and extra material. The course is build up a foundation of some basic exercises that will be repeated and unfolded as the weeks pass while Govind will keep a focus on specific subjects each week. This way you can receive the teachings in your own time and the material will be available for your to download even after the course ends so you can always go back and refreshen your memory or get inspired.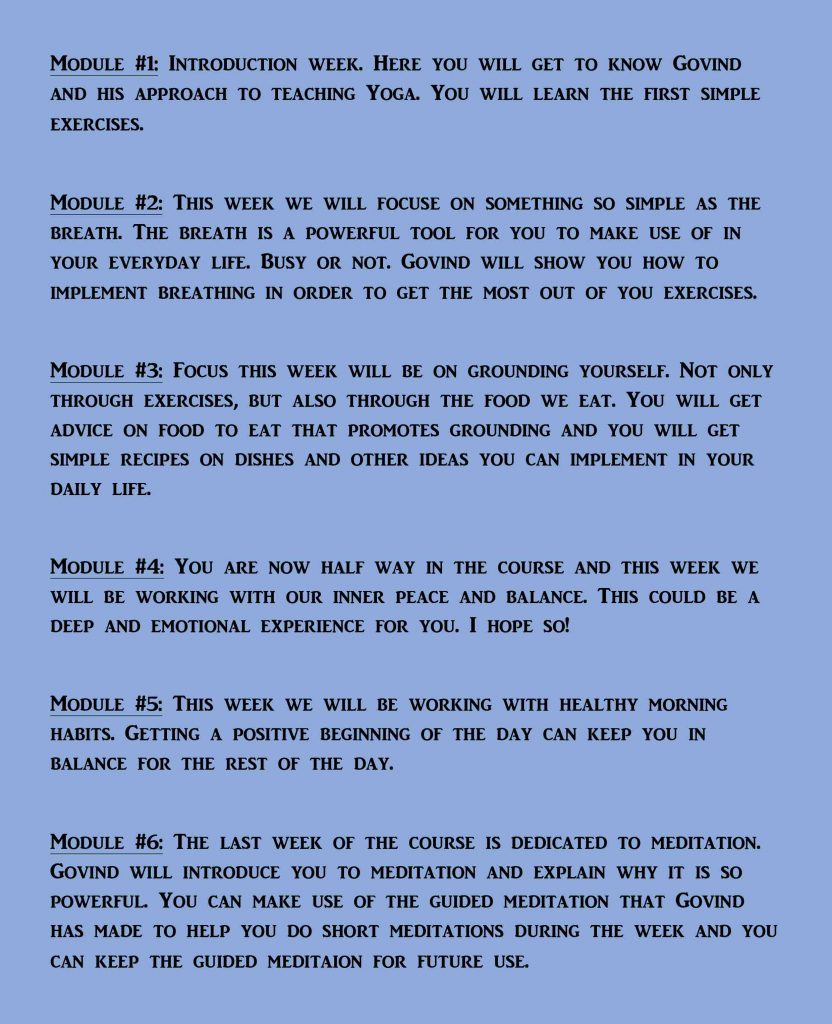 Free live meditation & satsang
Every Wednesday Govind is offering a free live Meditation & Satsang (spiritual talk) via Facebook live and Zoom at 20.25 central European time.
Govind teaches meditation with the aim of achieving peace for the individual and the world. There i much suffering in the world today with war, climate crisis and unhappy, burned out people. We all have busy lives full of responsibilities and it can be hard to show up every week at fixed timing. That's why he decided to offer these free online Meditation & Satsang sessions.
When a group of people in different corners of the world are tuned in to the same focus at the same time the effects from our thought waves have a huge impact on our surroundings.
We always begin with a short meditation and afterwards Govind will be giving a talk about a certain topic. The different topics are suggested by the people who attend these online sessions and chosen by me. The topics can vary a lot from climate crisis to self-esteem and relational issues.
Everyone is welcome to join. You don't need any experience with meditation. You just need to be open and curious about it.
Govind approaches the topics from the Indian traditional philosophy implementing Yoga, Ayurveda and Astrology bridging the eastern and western lifestyles.   
So, get comfortable, make a cup of tea and join a meditation with people from around the world in your own home.
You can send questions or topic suggestions through Messenger at Santhi yoga FaceBook page or to mail@santhiyoga.dk. Relevant questions will be chosen as topics in future broadcast.
With thanks
Govind Radhakrishnan
Links:
Join Zoom Meeting:
https://zoom.us/j/731498713
We recommend that you sign in 10 minutes before the program starts at 20:30 – 21:00.
Video tutorial, how to join a Zoom meeting:
Payment: Deposit of 3500 DKK/470 EURO to be paid when booking.
The rest of the payment to be paid on 13.12.19.
Cancellation procedure: In case of cancellation up till 2 months before the retreat:
50% of the deposit will be refunded.
What to bring? Vaccines? Visa? Get advice and more in the FAQ (link til FAQ side)
Language: English
Rejsegarantifonden: Santhi Yoga is registered in Rejsegarantifonden (membership no: 2915)
Tiruvannamalai, Tamil Nadu, India 
1st Feb 2020  – 15th Feb 2020 
Yoga, Meditation and Ayurveda Retreat
Aim/what you get/for whom: A spiritual retreat with daily yoga & meditation and classes in the ancient yoga philosophy and ayurvedic life understanding. Govind takes you by the hand all the way and he dedicate his full time to help you and your group to get the most out of each day. The course takes place inside the resort and "out there" in the amazing Tiruvannamalai – in the middle of the ancient spiritual vibrations in ashrams, meditation caves, temples and on the pilgrim walk around the holy mountain Arunachala.
Standard package: 12850 DKK /1722 EURO. 
Simple package: 9950 DKK (1333 EURO).
Early bird discount: Book before 30.08.19 and save 1000 DKK/132 EURO
Visit as a guest, not as a tourist
Get inspired from the direct touch! Govind invites you to "his India" – in his home country and to the mountain Arunachala where Govind has been meditating since he was a teenager. This opens an opportunity for you to learn from the inside of an ancient, rich and unique culture. Together, we cross the usual tourist border lines and make you feel as a participant rather than a spectator. All guest teachers -including swamis and other radiating personalities – are people Govind is personally connected to. The places Govind takes you to are places that inspire him the most whether it's an amazing temple or a poor farmer in his hut. They all have stories to tell. In each step, you are personally guided by Govind.
Daily programme/programme
05.45 - 08.00: Yoga & Meditation
08.00 - 09.00: Breakfast
09.30 - 11.30: Spiritual Class/ satsang
12.30 - 13.30: Lunch
15.00 - 18.00: Guided tour, meditation or guest teachers
18.30 - 19.30: Dinner
19.45 - 20.15: Group reflection
Each afternoon you have some hours to "digest" on your own: visit your favorite ashram, drink a chai in the local tea stall, chill out with a fresh papaya juice or have a refreshing swim in the pool at the resort. But most of the time you are with the group and will be guided by Govind
The base for the course and for the stay for participants with the standard package is the resort Arunai Anantha. Here Govind gives spiritual classes and we discuss and reflect upon our experiences by the holy mountain. We use the spiritual surroundings outside the resort daily and will spend much time in the peaceful vibration of the saint Ramana Maharshi in Ramana Ashram – just a five minutes' drive away.
Arunai Anantha is located by the foot of the holy mountain Arunachala away from the traffic noise and crowds of the small roads in the ashram area in Tiruvannamalai. Besides having nice and comfortable rooms,  Arunai Anantha serves nice Indian food in their garden restaurant and have a lovely outdoor yoga shala for our classes. In the afternoons, when the peak temperature will be around 27 – 30 degrees, you can enjoy the swimming pool or drink a cooling fresh juice on the terrace while digesting the inputs of the day.
Standard package: accommodation in Arunai Ananthas comfortable and spacious double rooms, limited single rooms available for advance booking and additional payment.
Simple package: the option for you who are flexible in accommodation and who do not mind a little walk to reach the resort. Near the resort we rent a house with single and double rooms and shared toilet and bath. The accommodation is simple: a room with a bed! The mattresses may be hard and you will have to clean your own room, bring your own towels, and wash your laundry by hand. But for you who like to travel simple this is a good way to cut down some expense on your trip.
Food: Most meals we share together in relation to the course. We offer traditional South Indian food and each day you will have 3 delicious vegetarian meals.
Course fee for 14 days course, totally 100 hours course including one individual session with Govind, accommodation in double room (14 days, 01.02 – 15.02), food (3 vegetarian meals daily) and certification. Single rooms available for 2850 DKK/382 EURO (limited numbers of rooms).
Not included: Transportation, extra payment for single room (limited amount): 2850 DKK /383 EUR
Transportation: You are responsible for your own flight and for local transportation from the airport to the resort and back. Nearest airport:Chennai airport (also called Madras Airport) located 4 hours' drive from Tiruvannamalai. Further information regarding arrival/taxi and more will be send when you register.